On the Go Breakfast or Snack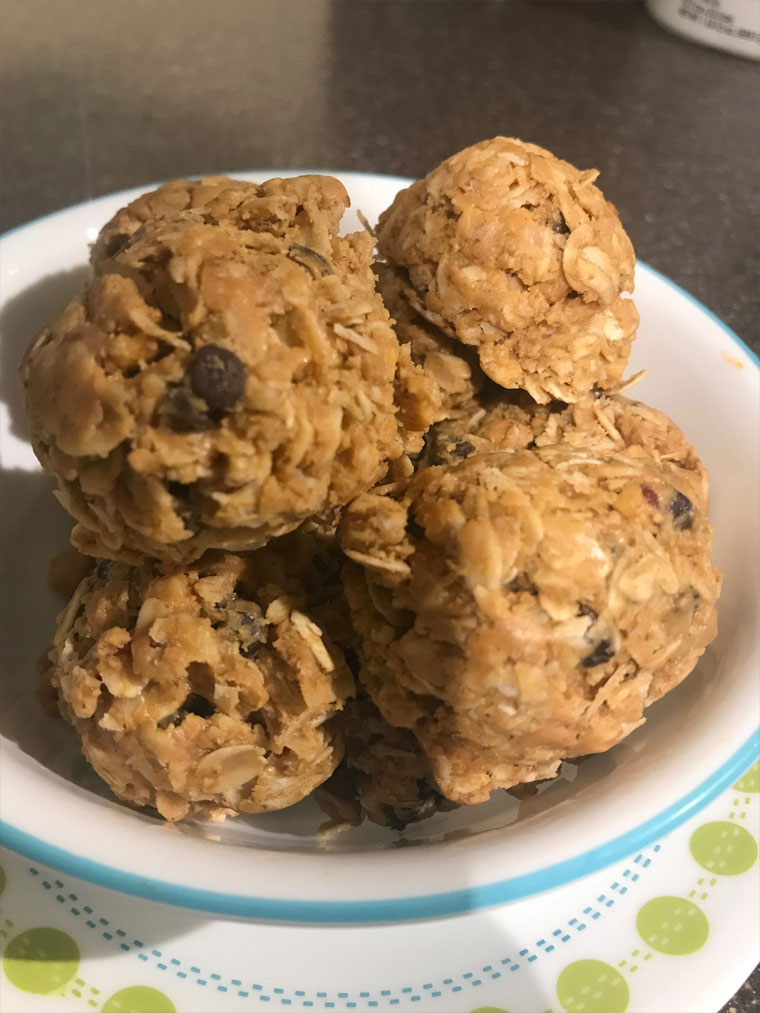 Many of us have jobs that are pretty demanding where we barely have time to sit down and eat. On the go snacks and meals are sometimes the only chance we get to eat.
Did you know grabbing a quick snack like a granola bar or protein bar may be harmful to your health?
We've all heard the buzz word "processed foods", usually food sold in jars, bags, or boxes. Well, I had no clue some of these could actually affect my health, mood and appearance, especially since it says right on the box FAT FREE OR LOW IN CARBS. Once I did my research and figured this out I knew I needed to make a change!
I began to come up with recipes I could prep ahead of time that would help me reduce my intake of processed foods. I have been eating like this for a little over two months and can really tell the difference. The first recipe I tried are these "on the go energy balls". They have become a staple in my weekly recipes!
"No Bake 5 ingredient Peanut Butter Energy Balls" have become the perfect healthy on the go breakfast or snack! They are loaded with protein, fiber and healthy fats to keep me full and loaded with energy throughout the day.
My favorite thing about this recipe is that is it super versatile — you can substitute pretty much anything in the recipe to make it your own. Allergic to peanut butter? Use almond butter… try raisins instead of chocolate chips, add chai seeds, the possibilities are endless ☺
You can even freeze these if you don't eat them all within a week but they do not last more than a few days in our house!
Here's the nutrition breakdown:
Flax seed: Benefits of flax seed include helping improve digestion, giving you clearer skin, lowering cholesterol, reducing sugar cravings, balancing hormones and even helping fight cancer.
Peanut Butter: One serving of peanut butter contains 7 grams of protein! Perfect for a quick energy boost and to keep you full throughout the day.
Old-Fashioned Oats: Good source of fiber and help promote a feeling full. They are also known to reduce cholesterol.
Ingredients
1 cup creamy peanut butter
½ cup semi-sweet chocolate chips
1 cup old-fashioned oats
½ cup ground flax seeds- wheat germ is a good substitute
2 tablespoons honey
Instructions
Combine all 5 ingredients in a medium bowl. Stir until combined.
Roll into 12-18 balls and store in the fridge for up to a week. Tip: I use my small or medium size cookie scoop to make the balls. This way they are all the same size.
Looking for more recipe ideas, check us on Instagram at Tampa Strength, South Tampa's Best Personal Training studio!